Block server-side tracking
with uBlock Origin
The tracking blocker uBlock Origin is a free and open-source web browser add-on that can be used to block tracking requests from websites. This also blocks server-side tracking requests – for example from Matomo.
Block origin tracking codes while surfing with uBlock
More and more websites rely on server-side tracking to collect and analyze user data. This often happens parallel to tracking with Google Analytics. If you track user behavior on the server side – for example with Matomo – without setting cookies, you do not need to obtain your consent to data processing in the cookie banner, since no cookies are used.
However, this can be undesirable for the user – especially with regard to their own privacy. To prevent this, there are various tools that can help block server-side tracking. One of them is the tracking blocker uBlock Origin. uBlock Origin is a free, open-source tracking and ad blocker that can block both client and server-side tracking. uBlock Origin is available as a browser extension for Chrome, Firefox, Edge and Safari and can. Once activated, it automatically blocks all known trackers on visited websites included in uBlock Origin's extensive filter lists.
uBlock Origin has extensive filter lists that are constantly updated. These filter lists already contain many well-known third-party URLs that are automatically blocked as soon as the user visits a website. However, users can also create and add their own filter list to block additional tracker servers.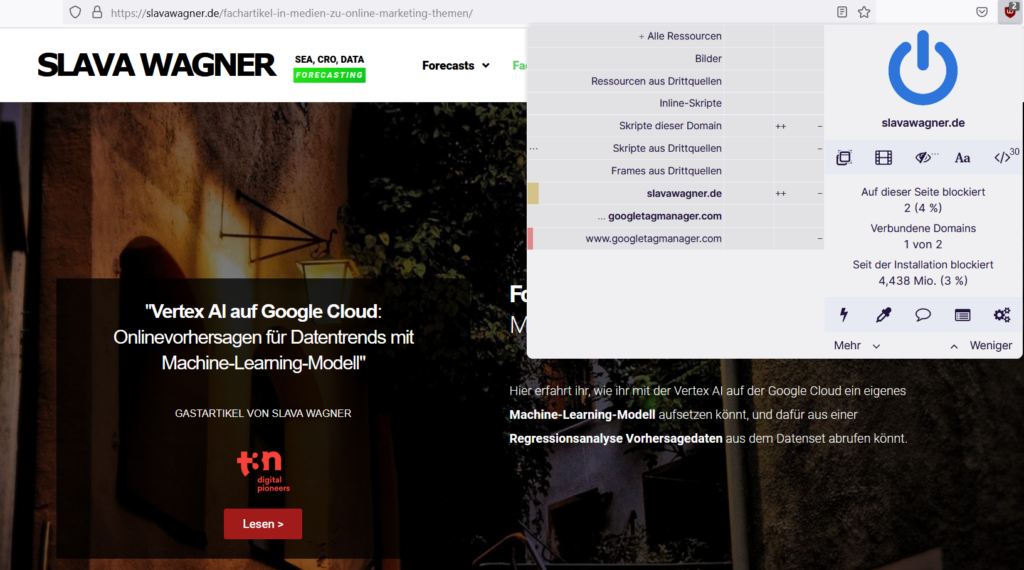 With uBlock Origin you can understand tracking requests from websites and the tracking code is blocked by default, so that your usage behavior cannot be recorded by the website operators and does not reach third parties such as Google or Facebook.
"I'm an advanced user" setting on uBlock Origin
uBlock Origin is controlled via the extension in the browser. If you go into the uBock Origin settings, you can also check the "I am an advanced user" box. As soon as this has happened, when you call up the plugin you can see directly which requests a website is sending and which third-party providers are trying to retrieve your data. Also, you can use uBlock Origin's network request log to see what requests are being fetched from third-party or server-side tracking in detail.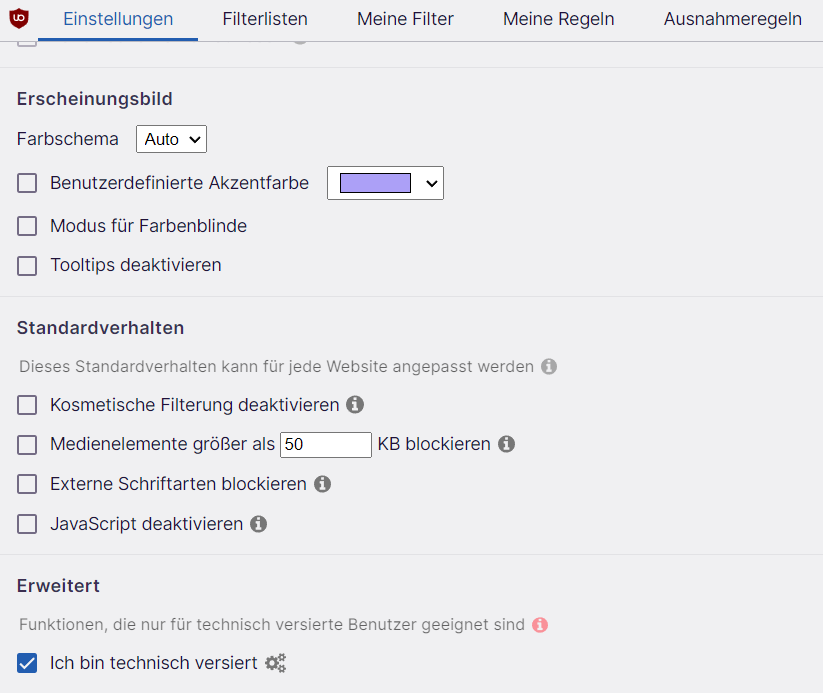 With uBlock Origin's "I'm an advanced user" setting, you can view and optionally block tracking requests from websites.
Understand tracking with the network request log on uBlock Origin
The network request log can be accessed by clicking on the uBlock Origin icon in the browser toolbar and then going to "Network Request Log". All requests sent from the current website are listed here, along with the rule that blocked them. It is also possible to manually block or allow specific requests by clicking on the icon next to the request.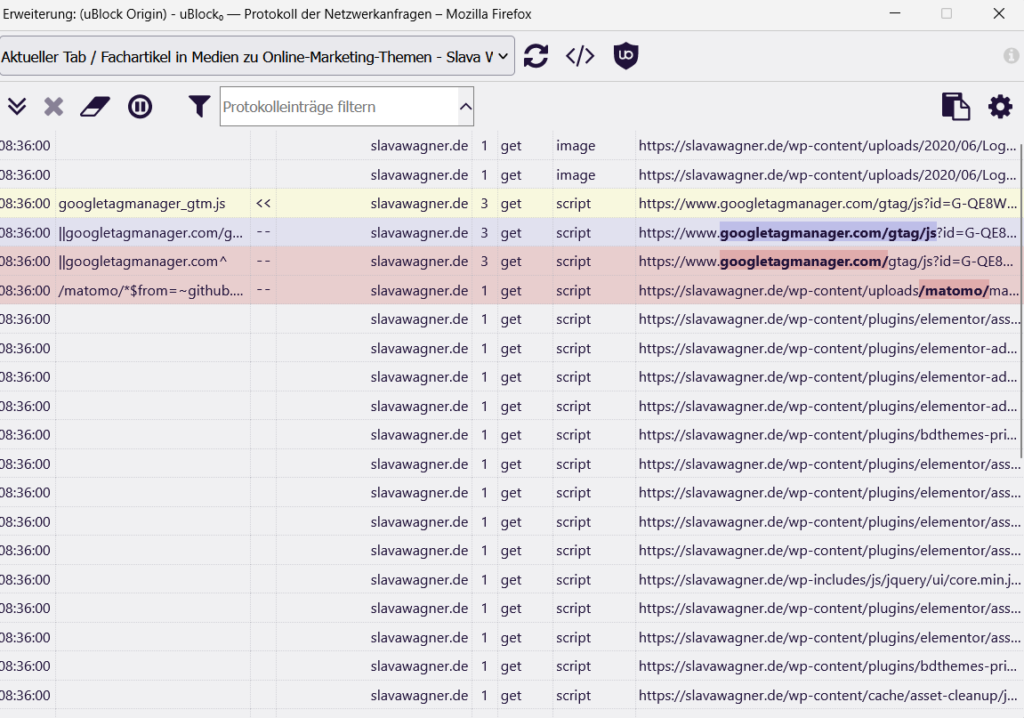 With uBlock Origin's network request log, you can study tracking requests from websites in detail. This is very useful if you work in online marketing and need to check for a company whether a certain tracking code really works and retrieves data. For greater data depth, turn off the big blue button in uBlock Origin's main window. After that, tracking for the website in question will no longer be permanently blocked and you can see which codes are being retrieved as part of Google Tag Manager in the network request log (because you won't see there if Google Tag Manager is blocked by default on the website).
Block ads with uBlock Origin
Also, uBlock Origin blocks ads by default. Many websites use tracking tools such as cookies and scripts to collect information about their visitors. This information can then be passed on to advertising companies or other third parties who use it to deliver personalized advertisements or to analyze surfing behavior. With uBlock Origin you can block these tracking tools that block ads on Google Ads, Google Search, Youtube and display banners.
JavaScript und Popups blockieren mit uBlock Origin
There are ad banners that are loaded with JavaScript: in this case, there is one for this right in the uBlock Origin menu to permanently block certain JavaScript loading processes on a website. You can also set uBlock directly so that no pop-ups should be loaded on the website. This prevents pop-ups from being delivered as soon as they load, so that you can surf undisturbed with your browser.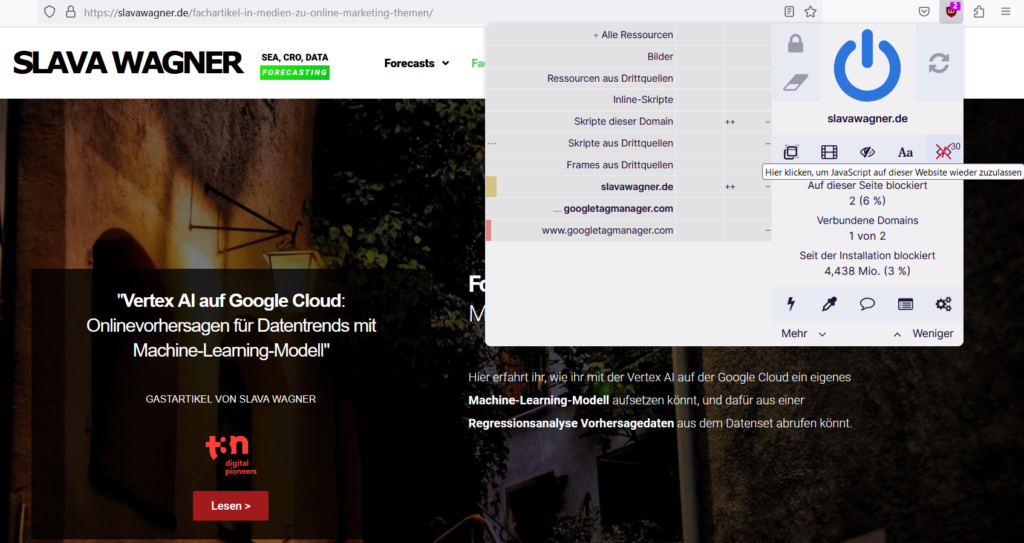 You can also use uBlock Origin to block a website's JavaScript fetch to prevent the delivery of ad banners or block disruptive functions from loading.
SEA, paid media, conversion rate optimization, market and trend analysis in the Berlin-Brandenburg area.
Telephone: +49 176 588 744 04
Email: info@slavawagner.de