Track phone number redirects from Google Ads campaigns
Tracking with Google Tag Manager: Track phone number redirects from Google Ads campaigns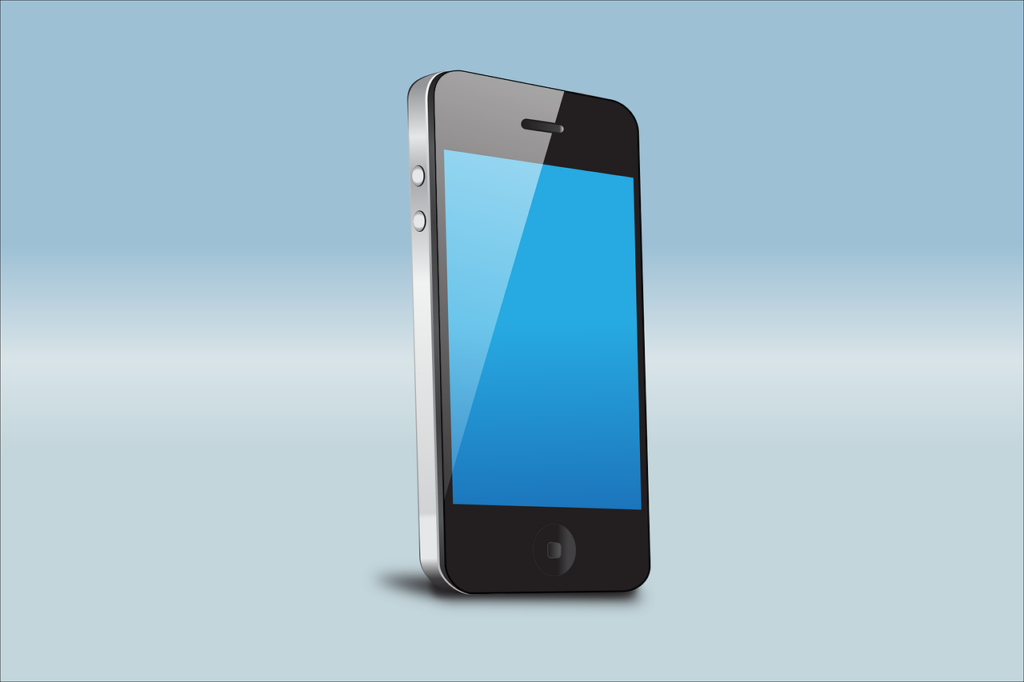 With the Google Tag Manager you can install phone number forwarding on your website. These are only visible to Google Ads users and enable the calls to be assigned to a specific advertising campaign.
Tracking calls on the website is an incredibly powerful tracking feature from Google. This means that advice-intensive sectors in particular can precisely measure their return from Google Ads campaigns – but so can delivery services that take their orders by telephone. The big advantage here is the technical reliability: When a user comes to the website from a Google Ads ad, the phone number on the website is automatically replaced by a forwarding number from Google. This differs from the original in that it contains a few more digits. If a call is made via forwarding, you will also receive a short, automatic announcement that this call has been tracked by Google. We can thus obtain an absolutely reliable statement about the calls received.
Beware of conversion numbers for search ad extension calls and smart ads
However, the reliable call tracking only works well on websites, not with ad extensions (call extensions) directly in Google search. The reason for this is that every person who has made a mistake and accidentally calls with their smartphone – is already counted as a caller – and thus as a conversion. In addition, for example, smart ads campaigns with call extensions often generate gigantic numbers of callers (e.g. 60 per week), but they are actually calling on a completely different topic. Accordingly, it happens that ads are massively played out in the map search, but with completely inappropriate search queries, which ultimately means that the law firm receives calls from people who actually wanted to see a florist. Apart from the lack of a fit in content, there is a breakdown of the calls in Smart Ads campaigns. There we mostly see that the absolute bulk of the calls had a call length of 0 seconds or 1 second, and only a fraction more than 30 seconds. The latter are then the ones who wanted to go to the florist. Ergo: The number of calls in this scenario are often not representative.
Note on disruptions with similar company numbers and the same area code
There are cases where Google Ads phone number redirects get tangled: If a business has many phone numbers where only the suffixes differ, and if they also have the same area code, Google may redirect the calls between them phone numbers forwarded. This means: A caller wanted to call number A – but Google forwarded him to number B. Therefore, caution is advised in this case.
Instructions: Install phone number forwarding from Google Ads in the website - this is how it works
Step 1: Create conversion action in Google Ads
First, we insert the conversion action for the call forwarding on the website in the Google Ads dashboard;
Tools & Settings > Conversions > New conversion action
Then we choose:
Calls > select Calls to a phone number on the website below > click Next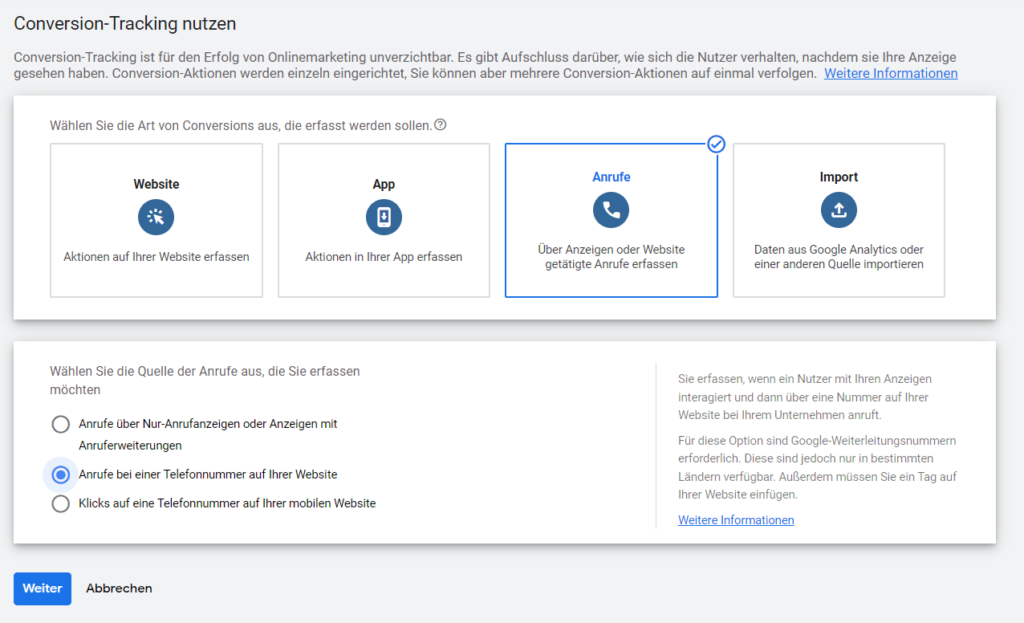 Store calls on the website as a conversion action.
Now you can assign a value to the conversion action, or keep the preconfigured value (1€) (tick the box). The conversion value is necessary for your internal measurements and should break down how valuable this event is for your company. This is only important if Google Ads campaigns are using Maximize conversion value bid strategies. Nevertheless, this is mandatory for each new conversion action.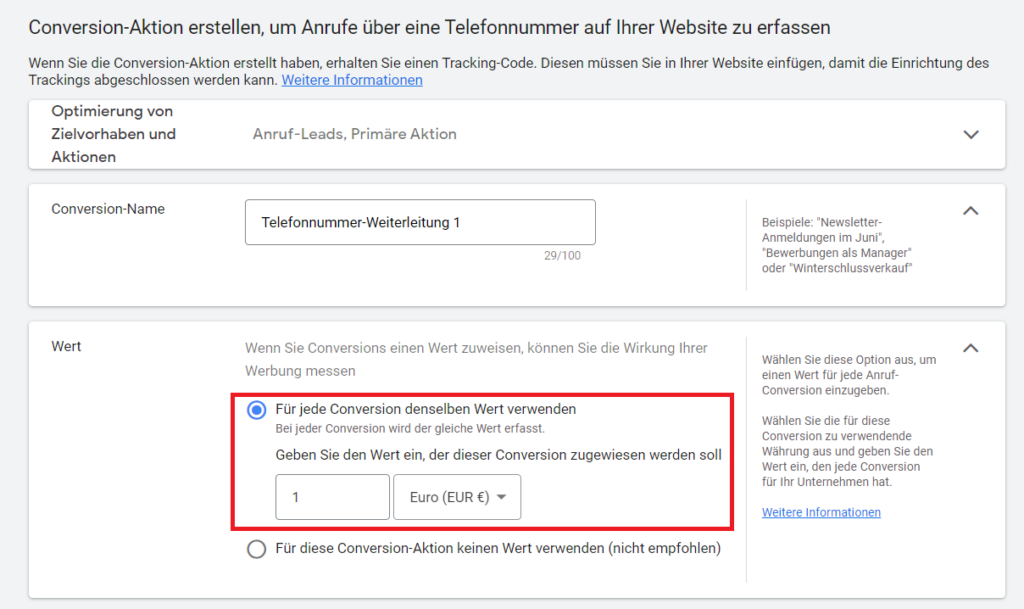 Assign a conversion value to the call.
Apart from that, you can simply scroll through here. Only one thing is very important: In the Telephone numbers field you must enter your phone number above
below enter the phone number that appears on your website in the exact same formatting as it appears on the website. So it's best to just copy it – if available, add spaces, country code and plus symbol accordingly after how the phone number is presented in its appearance on the website)

Enter your phone number, as well as the phone number below in the exact format it appears on the website.
Now select Use Google Tag Manager.

Select integration with Google Tag Manager.
We now need these two pieces of information: Copy conversion ID and conversion label.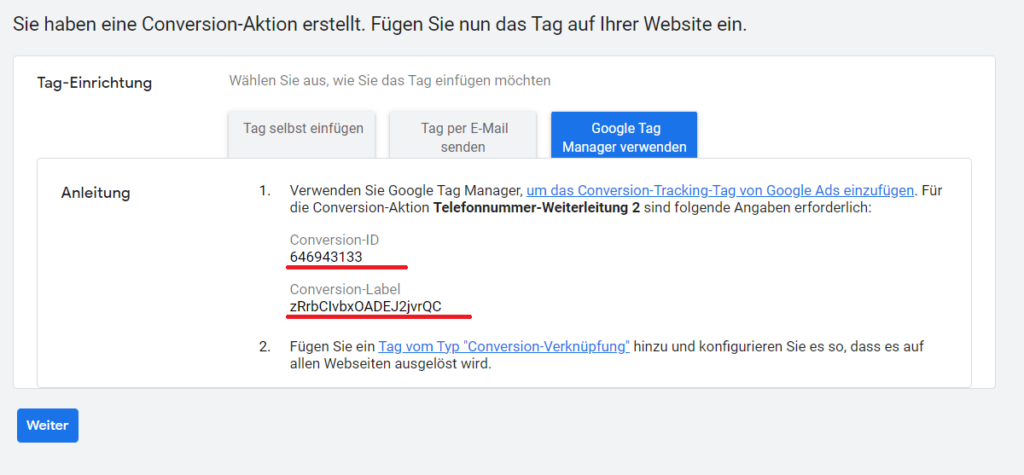 Copy the conversion ID and conversion label information.
You can now click Next and you are done with the setup.
Step 2: Create tag in Google Tag Manager
With our conversion ID and conversion label in hand, we now open the Google Tag Manager.
In the dashboard, go to Tags > in the left menu bar and then click the New button in the top right corner.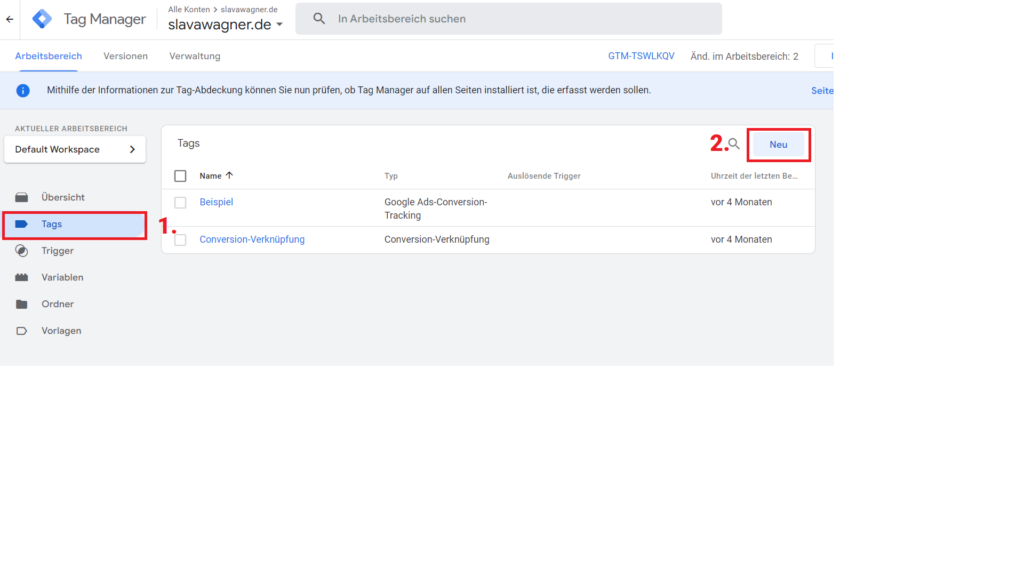 Create a new tag in Google Tag Manager.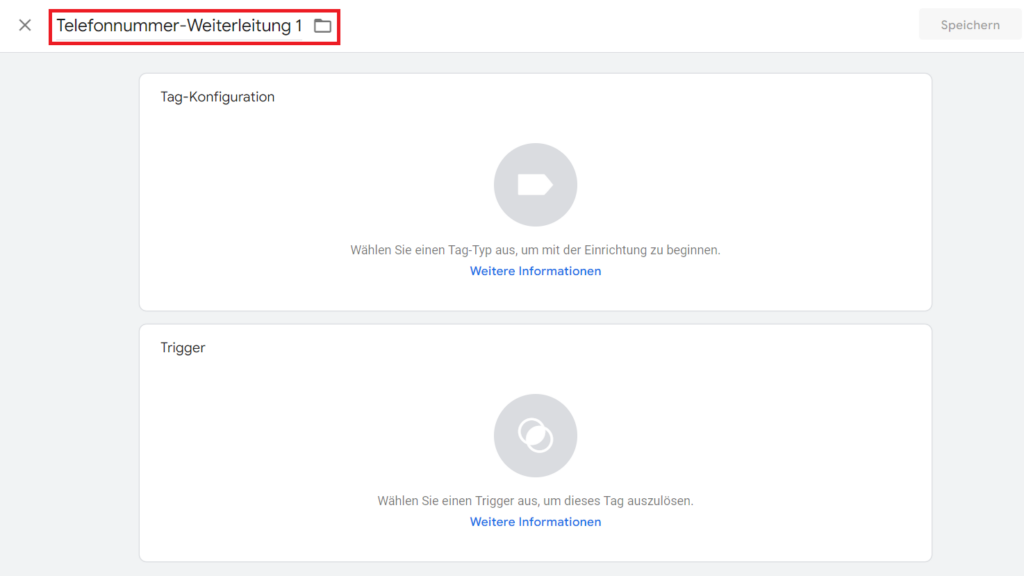 Click the Tag Configuration button.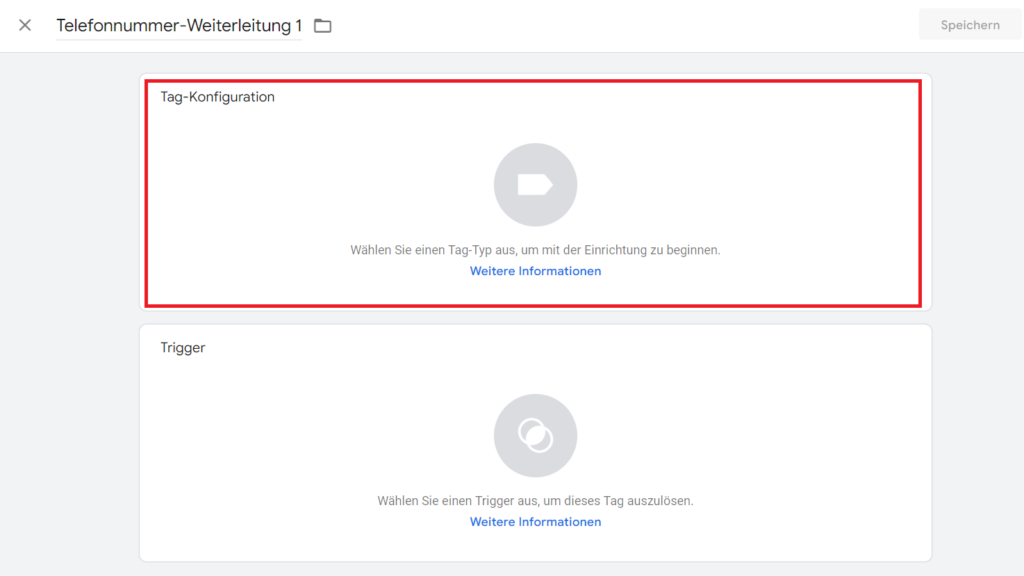 Select tag configuration in Google Tag Manager.
Now select the tag type: Google Ads – Conversions from website calls.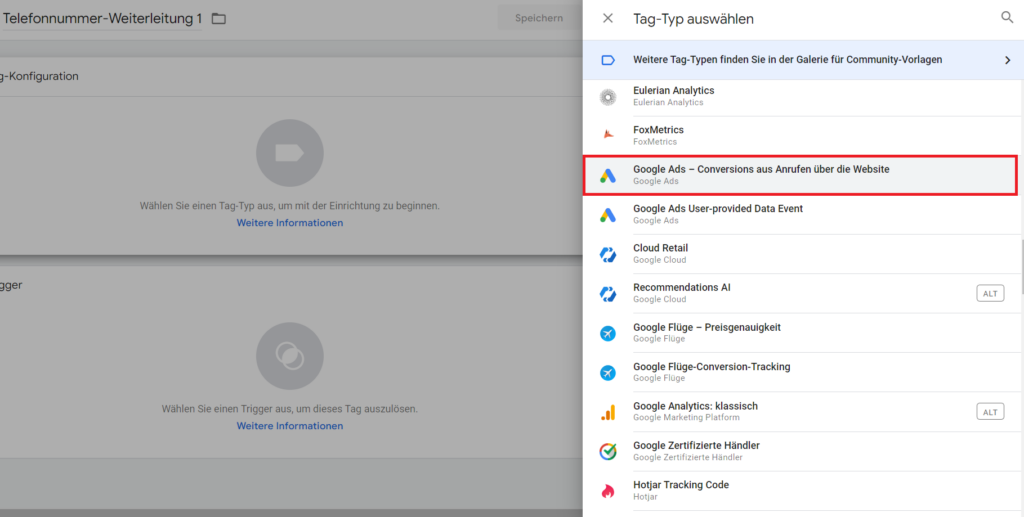 Select tag type in Google Tag Manager.
The most important step – now enter:
Telephone number, in the exact formatting as it appears on the website
Conversion ID
Conversion label
Enter triggers
Then click on the bottom, large Trigger field and select All Pages.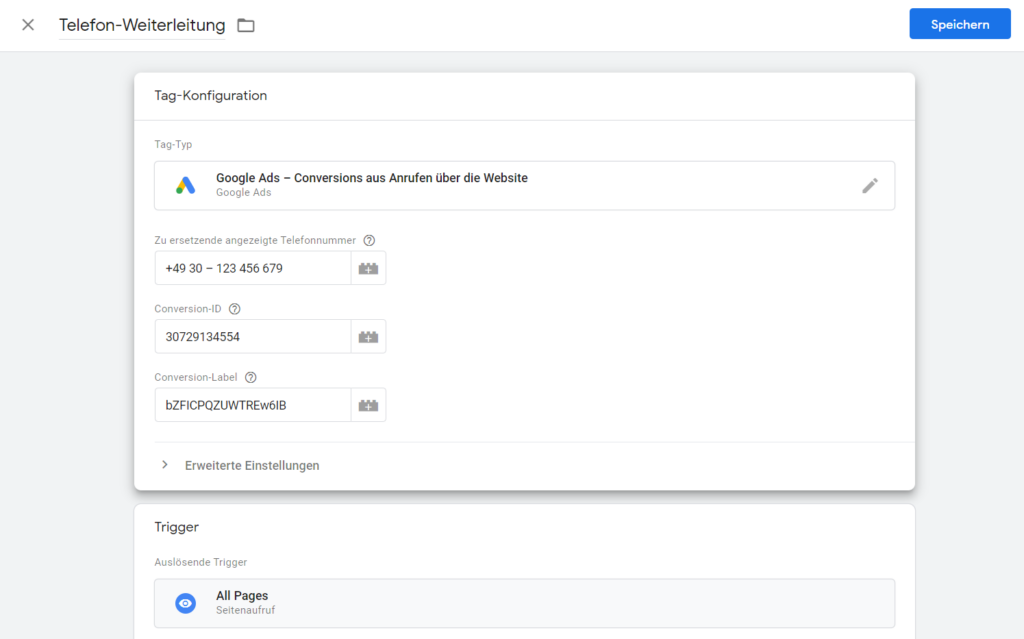 Enter the conversion ID, conversions label, and phone number here, using the exact same formatting as it appears on the website. Then click on "Trigger" below.

Under "Trigger" click on "All Pages".
Then click on Save in the upper right corner.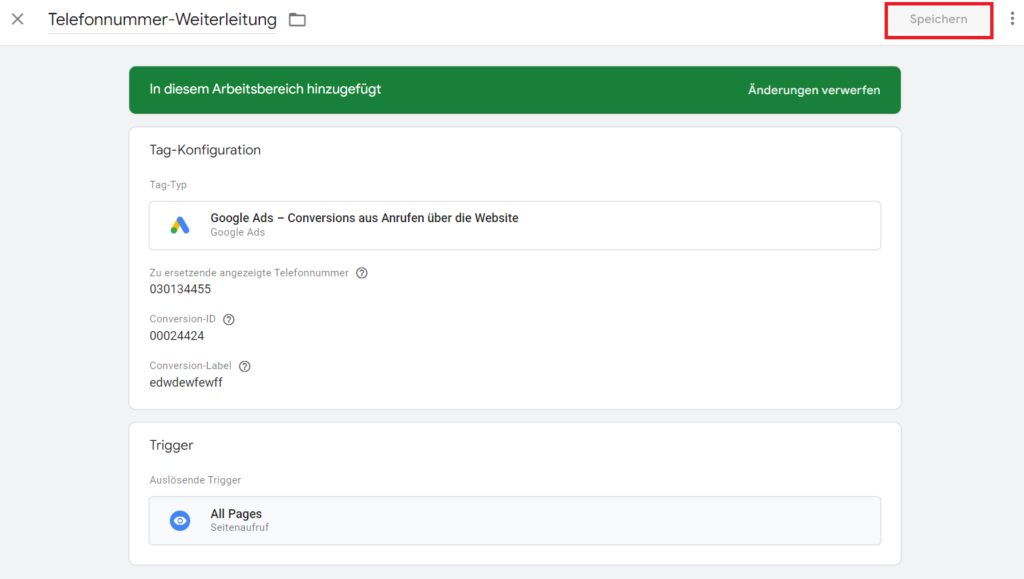 Save your tag with the button on the top right.
Then click on Send in the upper right corner to publish the Google Tag Manager container.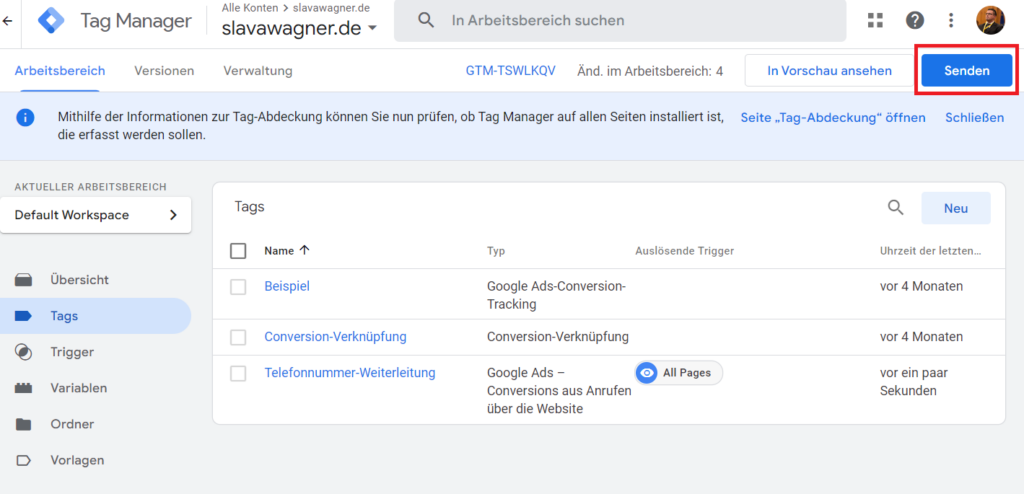 Publish your container using the "Send" button at the top right of the main dashboard.
Done: The phone number call forwarding from Google is now online and is now being recorded in the Google Ads account under Conversions.
You might also be interested in:
Analyze Amazon keywords by country with Helium 10
If we want to examine the awareness and interest of an e-commerce product in international marketing, we can use Helium 10.
SEO opportunity analysis in international marketing based on Keyword Difficulty
Where the SEO competitor density is very high in Germany, it can be much lower in other countries  – and otherwise.