LinkedIn Ads Lead Gen Forms
B2B Strategies in LinkedIn Marketing: How do Lead Gen Forms work?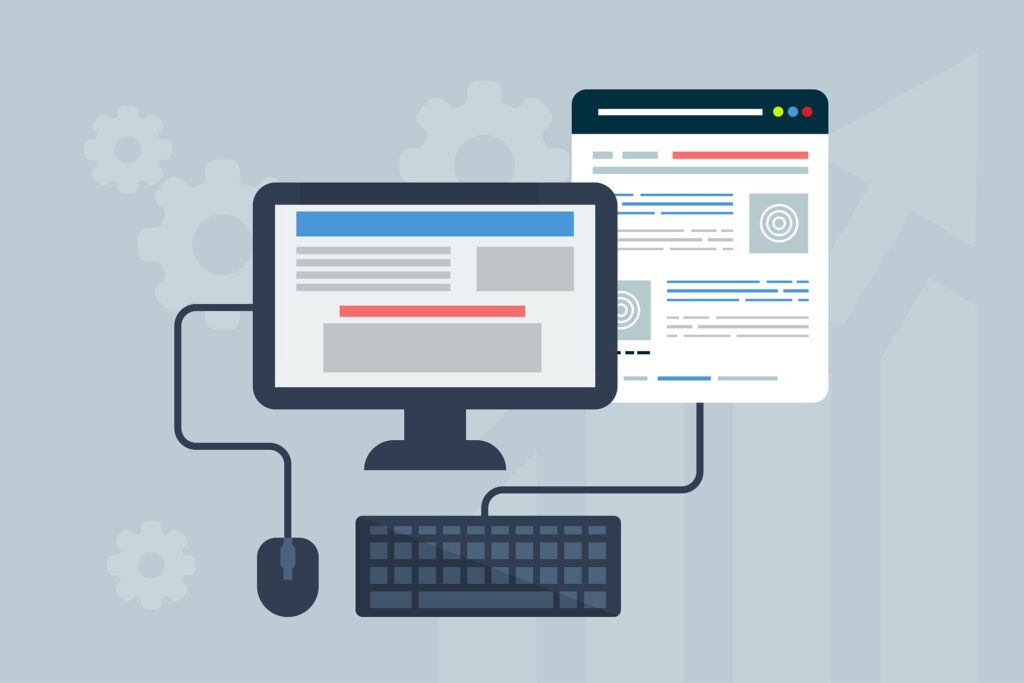 The CPCs and CPMs on LinkedIn Ads are many times higher than on comparable online marketing channels. Therefore, many companies ask themselves the question: is it worth it? Definitely, because the conversion rates on the platform's own Lead Gen Forms are tough.
In recent years, the business network LinkedIn has increasingly advanced to become a lively social media portal that has much of the dynamism that Facebook once had in its early days. Users share various insights from their everyday work, thoughts, projects and, above all, knowledge from their specialist areas – often highly specialized knowledge. This ensures that the growth of the platform, but also the length of time users stay on it, is currently increasing. And that in turn means that we can reach many B2B decision-makers at this point.
"Marketing with LinkedIn Ads is ideal for generating warm leads for warm acquisition sales - less so for direct inquiries."
Features in LinkedIn B2B marketing for lead generation
In the online marketing world, LinkedIn Ads are essentially characterized by three characteristics: they are part of push marketing, the average CPCs are very high, but the conversion rates are also very high. Five clicks are often enough for a lead:
Push marketing: Unlike in the Google Ads search network, the users reached have no search intention. High-priced and responsible decisions, ad hoc and shot from the hip, are rather rare in this format. This means that there are mainly low-threshold offers, i.e. soft conversions, with which we can generate leads on a large scale. Above all, this means: webinars, white papers, toolkits, e-books as lead magnets for entry into lead nurturing. In other words, LinkedIn Ads Marketing is best for generating warm B2B leads for a warm acquisition sales funnel.
High CPCs and CPMs: A normal, average CPC for a single image ad in Germany as of 2022 is around €7 to €8. In rare cases, campaigns with a better CTR can sometimes only cost around €4 per click – campaigns that are less popular with the target group also cost €12. In any case, the following applies here: every click has to be right.

The good news: According to official LinkedIn benchmarks, the average conversion rate when we use Lead Gen Forms is around 10.26%. With sufficiently tested targeting options, you can quickly reach over 20% here – every fifth click becomes a lead. With a CPC of €7, we would have a cost point of €35 per conversion. Depending on the campaign, a comparable lead from Google Ads may cost more or less.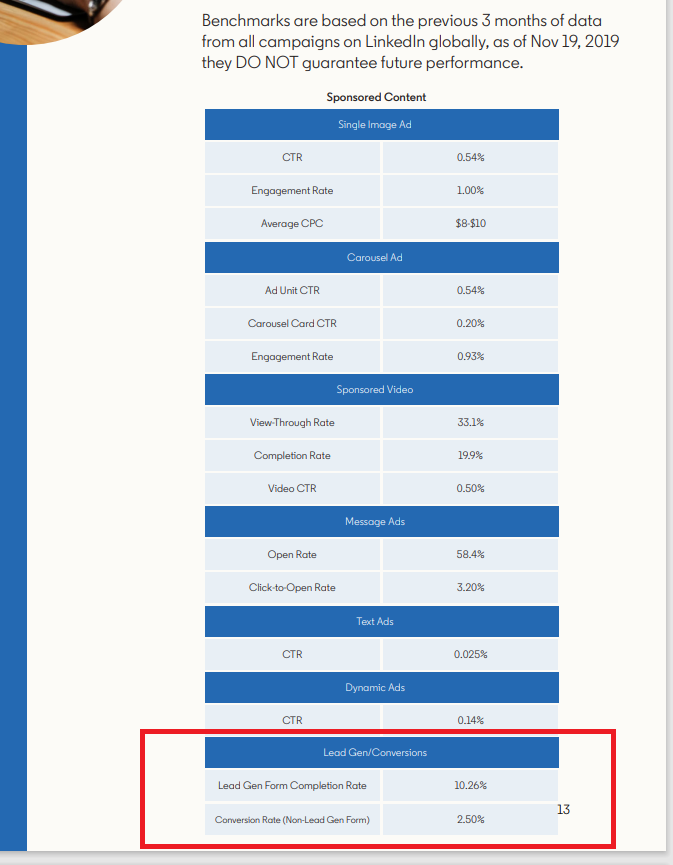 What is a LinkedIn Lead Gen Form?
One of LinkedIn's strongest tools and most outstanding unique selling points is the perfection of advertising with Lead Gen Forms, i.e. forms for lead generation. Depending on the setting, an ad can be designed in such a way that every click on any area (CTA, link, image) does not lead to a redirect to a landing page, but always calls up the Lead Gen Form.
This also means that the user cannot click away. The underlying system is known from conversion-optimized landing pages in one-page format: precisely because users have no other elements to click on, they are less distracted and can only think about the core element. This increases the percentage probability of completion accordingly. The strength lies in the user guidance.
In the LinkedIn ecosystem, using the Lead Gen Forms is such for users that once they see an exciting webinar in the ad and click, they cannot get any further information unless they fill out the Lead Gen Form. Conveniently, LinkedIn handles this process almost entirely itself: Most data queries are made via auto-fill-in (first name, last name, company, company size – user-defined). Only the e-mail address or telephone number still has to be entered manually by the user.
LinkedIn Ads costs: High CPCs, but high conversion rates
The result is impressive: According to the platform's own benchmarks at LinkedIn, LinkedIn ads that refer to an external landing page have a realistic conversion rate of 2.50%. An ad with lead gene form, however, 10.26%. Lead quality is entirely dependent on targeting and content, but with some tweaking, you can typically achieve over 70% qualified leads. You can download the leads manually or automatically connect them directly to a CRM system of your choice. It is also possible to synchronize the incoming leads with a mailing system such as Mailchimp, so that the new contacts automatically receive a registration email and then a mail chain of your choice.
Linkedin advertising formats: Simple single image ad as a driving force for lead generation
There are two main types of ads on LinkedIn that work particularly effectively with Lead Gen Forms: the single image ad and the carousel ad, which simply contains multiple images. These are so strong in lead generation because we have the greatest leeway for playing out the Lead Gen Forms here, because every click, whether on the image or the CTA directly, calls up the form. While we can also use video ads – but that renders the video in a built-in player so no Lead Gen Form pops up when clicked. Overall, we lose a lot of free space, which reduces the likelihood of generating a lead. We have to assume that absolutely every thought process, no matter how small-scale, will distract the user's focus from the actual offer. Therefore, the simple single image ad is the golden way, at least when it comes to the very hard, pure lead generation.
Implementation: Three factors for success
Essentially, only three strategic linchpins are important:
1. Offer design in your own sales model: First of all, the entire sales funnel should work at all. In concrete terms, this means: It's all for naught if you have great ads, great lead nurturing and a great product, but in the end the sales are too focused on software demos explaining details that are used in this phase are absolutely redundant, so that the end customers jump off. So if it becomes obvious that major problems are arising at one of the neuralgic points in the sales process, then that should be solved first. Don't forget: the product and service stand for themselves – the design of the offer in terms of presentation and information processing, on the other hand, can always be changed. If qualified, warm leads from a specific campaign did not bring any sales, the conceptual approach in the offer design should be changed accordingly. For example, you could link a webinar directly with the option of a consultation afterwards.
2. Targeting options: Are there any targeting options for this? For example, as of now there are no separate targeting options for homeowners or potential co-investors for real estate projects – you can only draw on users who are themselves directly active in the real estate industry. It has also been found that many targeting approaches that seem logical actually generate clicks and good CTRs, but no leads. This means that testing different combinations of, for example, industry + position + knowledge + interests and other targeting options must be tested again and again.
3. Ad design and image-text combination: Conventional A/B tests are required here. Which speech is the best? At what text length do users convert the most? Sometimes a three-liner is enough, sometimes longer texts work. The most sensible arrangement of the text modules in the CTA button. picture choice
In short: It's about finding out what the best information hierarchy is for the specific target group for your service in order to get users to convert.
Technical features: Performance stability
Constant mileage: No abrupt drops in performance
If the cost point per lead is €35, then with a monthly budget of €1050, 30 leads per month can be achieved over a long period of time. What is interesting about LinkedIn is that lead generation is surprisingly constant: the leads gained are distributed relatively evenly over the days and even after several months there are no performance drops or capers, as with Google Ads, for example, due to newly added competitors on the same keyword set can occur constantly.
Agility: Reactivation after campaign stop attracts immediately
Performance is stable even when a campaign has been paused for a period of time and later reactivated: it picks up directly to pre-pause levels in 1-3 days. This, in turn, is extremely practical because we can effectively control advertising for individual sales funnels, depending on where the need is higher. With Google Ads, on the other hand, it often happens that after a pause of a few weeks or months, it can be difficult to regain the old advantageous placements – especially because of the changed competitive situation to date.
Das könnte dich auch interessieren:
LinkedIn Ads Kosten: Warum Lead Gen Forms meistens die beste Wahl sind
LinkedIn Ads Lead Gen Forms sind unumgänglich in der Leadgenerierung, da ihre Conversion-Rate im Schnitt fünf bis zehn Mal höher liegt, als bei Landingpages. 
B2B-Marketing: Franchisenehmer-Akquise mit LinkedIn Ads
Es ist immer schwierig, potenzielle Franchisenehmer online zu finden. Größte Hürde ist vor allem die Herstellung einer stabilen monatlichen Laufleistung.